Companies that regularly host events or attend large conferences are always looking for ways to improve lead retrieval. Due to the ways that lead retrieval can help a business expand and connect with new clients or customers, the most successful companies know to invest in successful lead retrieval platforms and apps. For example, trade show lead retrieval can help a company reach out to interested parties in their industry, while conference lead retrieval can assist companies as they try to connect with attendees. 
If you're looking for new lead generation ideas or just want to understand what lead retrieval is, read through this guide.
What Is Lead Retrieval?
Whenever you host an event, you want to get some value out of it, while also providing attendees with the best experience possible. Making sure that attendees and exhibitors are pleased with the final product is key to throwing a successful event. However, it's also important for the company hosting to get some return out of their investment. One of the best ways to get high returns is to have a lead retrieval strategy in place. 
If you're unsure about what lead retrieval is, we should start at the beginning:

Leads
Lead retrieval starts with the leads themselves. Essentially, a lead is an individual or company that has expressed some interest in your company. More precisely put, the interested party will usually have indicated that they wanted to hear more about a particular service or product of your company. From that interest, your company's sales or marketing team will follow up by contacting the leads to make a sale or accomplish a goal. 
Why offer Lead Retrieval
Lead retrieval is simply the practice of attempting to capture and then process as many viable leads as possible. Imagine that your company is throwing an event, whether it be a large conference, a show or whatever else fits your organization. At this event, your representatives are likely to interact with hundreds or even thousands of people who are a part of your target audience and who are most likely to engage with your company. 
While you can stick to classic forms of lead retrieval like collecting business cards and taking down information on clipboards, you'll likely only collect information from a small fraction of the possible leads in attendance. By not collecting all of the viable leads at an event, you place your company at a disadvantage by missing opportunities. Lead retrieval apps and systems fix the problem of missing out on opportunities by providing intuitive solutions for capturing and then processing leads. 
With a high-quality lead retrieval solution, you'll have a system in place to capture the profile and information of different attendees quickly. The solution should also send this information to a database that will keep the data secure and easy to access whenever it's needed. Once you've gathered the data, you can use it to connect with the lead, whether through automated marketing protocols or a member of your sales staff, to ensure the most impactful follow-up.
Why Is Lead Retrieval Important?
If your company isn't set up for lead retrieval, it's losing out on business. For companies that want to grow or even just have a steady stream of income, lead retrieval is a must. By not having a lead retrieval strategy, you're risking financial instability and the ability to turn a profit. 
When you realize just how much business you lose by not using lead retrieval technology, there's no reason why you wouldn't implement a lead retrieval strategy into your business. 
Along with helping your business grow, lead retrieval can be a huge help to your sales and marketing staff. Instead of having to guess or go into a conversation without much information, they'll be better equipped due to the data that lead retrieval technology provides. Being better equipped makes their job much easier, which then helps staff morale and frees up their time to do the more engaging parts of their job. 
What Are the Benefits?
Lead retrieval apps and systems come with several benefits that can revolutionize your relationship with leads and help you maximize your business potential. Below are some of the top benefits of lead retrieval platforms below:
1. More Accurate and Complete Data Capture
One of the most obvious benefits of lead retrieval is that it helps you collect more data. Any good lead retrieval systems will incorporate major data capturing elements. With data capture technology, you can gather an attendee's contact info, along with other more specialized info about the attendee that can assist with future marketing efforts. There's no one-size-fits-all data capture method, so the best systems will let you customize your questions.
2. Convenience
Lead retrieval should be convenient for your guests. Some unsophisticated lead retrieval processes have attendees filling out long forms or swapping cards with your representatives. This slow process puts your employees at a disadvantage to gain new leads. A top-quality lead retrieval system will make the process easy and intuitive to both employees and attendees. Additionally, the system will make it easier for your team after the event is over, as they'll have more accurate information from attendees.
3. Good for Your Image
With a lead retrieval system in place, you have convenient and accurate data capture as well as differentiate yourself from other competitors at an event. By having a streamlined process, you'll likely impress leads, building your corporate image and setting your company apart from the other less advanced competitors. Effective lead retrieval brands your company as a leader in technology, especially if your lead retrieval implements RFID scanners, bar codes, badges and QR codes.
4. Top Results
Perhaps the biggest benefit of using lead retrieval apps and systems is the results that you get from using them. When you're better at collecting data on potential leads, you're more successful in connecting with leads and turning them into customers or clients. You will better connect with leads, and you'll also reach more of them, helping you to grow your business as a result.
5. Stronger Connections
When a member of your staff follows up with a lead, you want them to be going in with the most information possible to put them at an advantage with the potential customer or client. With lead retrieval software, you'll better understand the needs of your leads, know their pressure points and form lasting connections. As you'll build deeper connections, it's more likely that you can convert the leads into paying clients or customers.
Seven Ways a Lead Retrieval App Will Revolutionize Your Company
Lead retrieval apps are revolutionary to any company's lead retrieval strategy. An event app will change the way you interact with attendees on the day of an event and provide greater opportunities for you to interact with them.
Lead retrieval apps are affordable and process data quickly, so you can follow up with leads while they are still warm.
Here are seven of the top ways that a lead retrieval app can revolutionize the way you interact with attendees at an event:
1. Easy Collaboration Between Teams
A major element of event apps is their ability to help team collaboration. As the app will be connected to the cloud, any notes that a team member makes on a lead will be shared with the rest of the team. This can be especially useful if a lead meets with multiple staff members at an event, as the next staff member can quickly access what the attendee has already been told and tailor their pitch with new info. 
With the ability to access attendee information, team members can build on top of each other's past work to build deeper relationships with leads. The collaboration also increases attendee engagement, as they will respond better to more personalized engagement.
2. Event Apps Reduce the Amount of Equipment Needed
One of the biggest ways that a lead retrieval app will change the way your company collects leads is through its functionality with everyday devices like cellphones and tablets. Instead of renting lead retrieval equipment, you can turn staff members' smartphones and everyday work devices into lead retrieval tools.
The best apps will be outfitted for iOS or Android operating systems on cellphones, meaning that a smartphone can be turned into a scanner and data collection tool. For example, a phone can scan an attendee's badge or QR code to access their info quickly.
The data collected from a scan or other data retrieval method can even pick up an attendee's enriched data, helping your team in the future. These apps are so useful that you'll save money in the long run by not needing to rent out equipment ever again. 
3. Visualize Your ROI Instantly
A lead retrieval app will quickly load your attendees' data and give you updates on your metrics in real time, so you can see your return on investment (ROI) instantly. In the dashboard of your app, you can find crucial data, such as your average lead quality, your total scans and your attendees' feedback on the event. This instant feedback means companies can make adjustments on the fly for greater ROI at the event and in the future. 
4. Increase Lead Retention
With improved lead retrieval systems, you can expect to retain a larger portion of your leads since the information will be more accurate and better organized. A lead retrieval app makes it easier for attendees to enter accurate data and sends that data to a secure, organized cloud. Better collection methods mean more accurate leads. 
5. Revenue Generation
Experienced event planners know they can use the best lead retrieval apps for lead retrieval and offset their costs with sponsorships opportunities that bring in revenue. As people will regularly access the event app while they attend, there will be opportunities throughout the day for sponsors to make an impression on them. 
Exhibitors at the event and other outside companies will want to advertise to your attendees, so it's wise to capitalize on that desire. Investing in lead retrieval is an excellent long-term profit-making strategy, but you can generate an immediate revenue stream by selling advertising space on your app.
6. Better Attendee Experience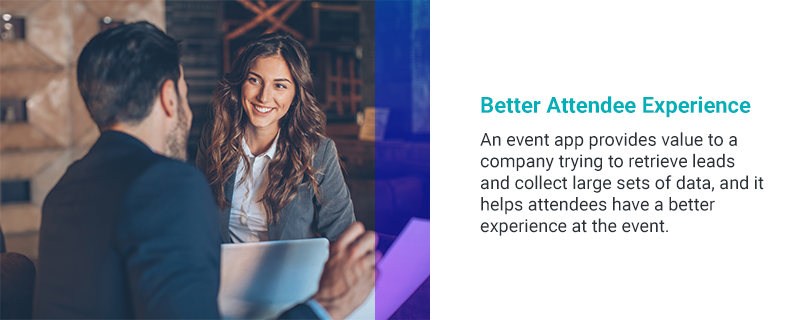 An event app provides value to a company trying to retrieve leads and collect large sets of data, and it helps attendees have a better experience at the event. A good event app will provide attendees with features like a personal planner. With a planner, they can schedule what sessions they plan to attend and highlight exhibitors or speakers they want to prioritize seeing. In the app, they can set themselves reminders to stay on track.
Additionally, event apps can make an event even more attractive to attendees by adding gamification, which can add healthy competition between attendees at the event. One of the main benefits of gamification is its ability to encourage attendees to go out and explore the entirety of an event. Along with gamification, push notifications and tech support can both be integrated into a lead retrieval app to improve attendees' experiences.
7. Improve Sales
You can use the data you gather in an event app while attendees navigate your event to improve your sales. For example, an app can see which booth captures the most leads or where in the event attendees are giving their most focus. You can also use a lead retrieval app to send targeted notifications to select attendees during the event, encouraging them to act. 
Add a Lead Retrieval App to Your Company
To take your lead retrieval strategy to the next level, work with a company that has software powerful enough to reach as many leads as possible, while also helping to keep all of them organized. Working with Expo Logic means you get powerful event planning tools along with an excellent platform that enables you to reach as many qualified leads as possible.
The event management software that powers both the platform and the app is unmatched in the industry. Sign up for a free demo of our software or contact us today.