Badges are a key component of any professional event since they identify attendees and foster networking. While ID badges have long been an important fixture of events, the role of these badges has changed over time. Today, badges can include everything from photos and QR codes to social media handles and more along with attendees' names. The way we produce these badges has evolved, too. While pre-printing badges is still a common practice, innovative event managers are discovering the many advantages of onsite printing. 
We're going to look at these two options in more detail and then discuss 10 key reasons why it's a smart move to print badges on-site instead of printing them ahead of time. While most aspects of event planning involve preparations in the months, weeks and days leading up to an event, when it comes to printing badges, this is one task you're better off to leave for check-in time.
Pre-Printed Badges vs. Onsite Printing
The traditional way of creating ID badges for events is to print the badges ahead of time according to the registration data you have several days before the event begins. You can either outsource this job to a professional printing company or do it in-house with your own printers. Either way, this traditional printing method can be time-consuming and costly. It also forces you to close your registration in advance of the event or print badges knowing that you'll end up with some late-coming registrants who don't get one. 
Considering the limitations with pre-printing badges, it's no wonder that some event managers have sought out a better option — onsite printing, also known as on-demand badge printing. With onsite badge printing, you do not print your attendees' badges ahead of time. Instead, you use printers on-site that are synched with your registration software so, as attendees check in, their badges are printed right there on the spot. 
One way attendees can check in is with facial recognition technology. By looking into a camera, the software can match the image to one in the registration database and print out the badge right away. Another way is to send registrants a barcode in their email which they can scan at a self-service kiosk at your event. As with the facial recognition method, this will confirm the registrant's attendance and print out their badge.
The onsite model for conference badge printing comes with many advantages. If you're currently pre-printing badges, you'll want to check out the following 10 reasons to make the switch to onsite badge printing.
1. It speeds up check-in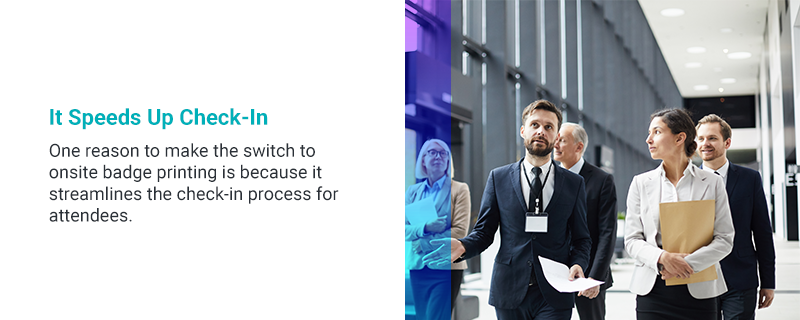 One reason to make the switch to onsite badge printing is because it streamlines the check-in process for attendees. It may seem like leaving printing for check-in rather than completing this task ahead of time would slow down check-in, but this is not the case. Consider what it looks like when you have to hand out pre-printed badges. It typically means having rows or filing folders full of badges to sift through each time someone comes to check in. 
If someone has a question or needs to change the name on their registration, this adds to the check-in time and can frustrate people waiting in line. Overall, this process can feel clumsy and slow, both for staff and guests. In contrast, when people can check in at a kiosk and print their badges on the spot, they get to enjoy a more efficient check-in process. Within seconds, they are checked in and have a professional ID badge. If there are other printed materials they need, like tickets, they can also get these immediately when they check in.
2. It stays current
One major advantage of onsite printing is that it allows you to leave registration open through the start of your event and still provide all your attendees with professional ID badges. Leaving your online registration platform open rather than closing it days before the event so you can print badges allows you more time to generate interest and bring in more attendees.
Even attendees who register early on may want to make last-minute name changes or other alterations, all of which can easily be accommodated when you give attendees more control over the process and wait to print your badges. With pre-printing badges, you must close your registration early or know your badges may be incomplete or inaccurate. However, with onsite badge printing, you can maximize your registration potential and know your badges will stay up-to-date and accurate with your registration data.
3. It eliminates waste
Any experienced event planner knows to expect no-shows. In other words, not every person who has registered for your event will actually attend. They may fully intend on it, but illnesses and other circumstances may keep them at home or their office. Of course, when you pre-print badges, you have to assume that every registrant will be there because you have no way of knowing who may end up being a no-show.
This results in wasted badges that will end up in the trash. You may also have to throw away badges that contain errors or when a guest needs to make a name change. If you're looking for a more sustainable badge printing method, the answer is printing badges onsite. This way, every badge you print is accurate and ready to be worn by the attendee — no waste necessary.
4. It allows staff to focus on other preparations
It's an understatement to say that event planning is an involved process. Most conferences, for example, take a minimum of a year to plan, and often more like two years. Earlier stages of planning tend to focus on bigger-picture decisions like when and where you will have your event, but in the weeks leading up to the event, your staff's attention will be consumed with final details like meals, signage and more.
Typically, one of these last-minute tasks that can eat up your staff's time is printing badges. When you switch to onsite printing for badges, this frees up you and your staff to focus on making every detail of your event perfect rather than being stuck in a room printing badges for hours and then having to sort them alphabetically.
5. It Frees up Staff During the Event
Printing badges on-demand can also free up staff during check-in time at your event. This is because they won't have to stand behind a table sorting through dozens or hundreds of ID badges to find the right one for each attendee in line. Instead, attendees can efficiently check themselves in and receive their badges through self-service kiosks.
This means you can focus on placing staff at a registration table and anywhere else in the facility that makes sense to help welcome guests, touch base with speakers or exhibitors and generally ensure everything is running smoothly. You may worry that self-service check-in will leave guests hanging if they have questions, but your event staff can be stationed at easily visible locations where guests can come up and ask them whatever questions they might have.
6. It Makes a Great First Impression
Because the traditional method of checking is beginning to seem more and more clunky in comparison to the efficiency of technology, this method of check-in does not make the best first impression. This is especially true if your event focuses on technology or innovation in any way. Starting with an outmoded means of check-in can set the wrong tone for the event. It can also make checking in more stressful for attendees, particularly if they are running late or in a hurry to get their badge and get to a certain location.
Conversely, having a high-tech and efficient check-in solution, complete with on-demand ID badge printing, is the perfect way to make a positive first impression on guests. They will feel at ease being able to check themselves in quickly and will notice the step up from standard check-in tables covered in a mess of badges. 
7. It Tracks Attendance in Real Time
Tracking attendance is important for event managers so they can take stock of how successful the event was and what they can learn for future events. There are likely many key metrics you want to track, but in every case, you'll want to track attendance. You could look at your registration data, then look at ID badges that were left on the table to deduct these no-shows from your numbers. This method is still unreliable, though, since it may not account for walk-ins. 
It is imperative that you have a digital record of every guest — that is, guests who actually attended the event. Onsite badge printing allows you to track attendance in real time without ever having to wonder if your numbers are accurate. This can also help after the event when it comes time to follow up with attendees by email, for example. 
8. It's More Cost-Effective
Cost tends to be a primary concern for event coordinators, and rightly so. The goal is to pull off a successful event without breaking the bank. So, which is more cost-effective — pre-printing badges or printing them on-site? While onsite printing comes with some additional technology costs, it is ultimately the most cost-effective option. 
One reason for this is because, as a self-service option, it eliminates the need for so many staff members to handle registration. It also eliminates the time you would have to pay employees to print and sort badges ahead of time. Another main reason is that, as we discussed already, on-demand printing eliminates waste. Throwing away wasted badges means throwing away money in paper, ink and other materials. Furthermore, if you mail out badges to registrants ahead of time, you take on additional expenses. When you're concerned with cost-effectiveness, opt for onsite printing.
9. It Integrates With Your Existing Platforms
With an event management software market worth nearly $8 billion, it's easy to see that software has become an important aspect of event planning. More and more event coordinators are turning to technology to help them plan, manage and track various aspects of their events. Fortunately, you can use onsite badge printing technology that seamlessly integrates with your existing software.
This means you won't have to start from scratch creating a registration database for the self-service kiosks to use to check in attendees. Even if all you currently use is content management software (CMS) or association management software (AMS), you can use check-in management software that will draw from these existing platforms to check in registrants and print their badges.
10. It Takes Advantage of Modern Technology
Finally, onsite printing is the only check-in method that truly takes advantage of modern technology. From your guests' perspective, they are used to advancements that make self-service options possible at grocery stores, airports, movie theaters and more. This can start to make traditional check-in methods appear outmoded. From your perspective, why go to the trouble and incur the expense of printing badges ahead of time when there is a more technologically advanced option available that will save you time and money?
To sum it up, onsite printing is the check-in method that capitalizes on current technology to enhance the process of checking in registrants and tracking attendance at your event. Whether you're using facial recognition technology or allowing guests to show a barcode on their smartphones, onsite badge printing is a fitting choice for any company concerned with capitalizing on modern technology to improve the planning process and the user experience.
Onsite Badge Printing From Expo Logic
If you want to take full advantage of modern event planning and onsite badge printing technology, Expologic is your source for cutting-edge event planning services. Our suite of software includes platforms for event planning, expense tracking, exhibitor planning and event registration, making it an all-in-one solution for your next event. There is plenty of room for customization so you can use the specific features you need to make your event a success.
Our event badge printing solution uses your existing database of registration data and identifies attendees as they arrive either through facial recognition or barcodes to wirelessly print their ID badges on the spot. Every detail for these badges can be customized so they look perfect for your event and make a positive first impression with attendees. As we've seen, there are many advantages to onsite badge printing that make this an excellent option to consider if you're currently pre-printing badges.
Learn more about our onsite badge printing.
We're happy to discuss our entire suite of event management solutions in addition to our onsite badge printing since we're dedicated to helping you streamline and enhance every aspect of how you plan events.