If you are planning an event that features keynote speakers, you want to provide the best possible experience. The better experience your guest speaker has, the more likely they will be to work with you again in the future. Satisfied event speakers are also more likely to mention their positive experiences to their professional network, which reflects nicely on your organization and may even help you secure leads for future events.
How to Find Your Next Event Speaker
The first step for keeping your event speakers happy is to choose a professional speaker who aligns with your organization's core values and event objectives.
If you are unsure where to begin your search for the perfect event speaker, you have several avenues to consider:
Ask your network: Consult your professional network in-person and online. Within your industry, search through the people connected to your network until you find a potential speaker who meets your criteria.
Use a database: There are some database websites, like the National Speakers Association

, that help match speakers with event organizers based on topic, budget and other useful filters.

Check local colleges and organizations: Check with your local university or nonprofit organizations for inspiration. If possible, once you find a potential speaker, attend an event where they will be speaking to get the best understanding of their work.
Ask for proposals: Let potential speakers come to you by sending out a call for proposals. Many speakers would love the opportunity to speak at an event for exposure, to market a new book or simply because their beliefs align with the event's goals. Potential speakers will submit their proposed topics, cost and other information that can help you narrow down prospects.
Survey your target audience: Send a survey to your target audience via email or social media and ask them to suggest potential speakers. Surveys are also an excellent method for finding a speaker that your audience will be genuinely interested in hearing.
Ask the organization who they admire: Discuss potential speakers with the organization holding the event. Is there a speaker who has influenced or inspired them in the past? If so, that is a great place to begin your search.
Understand Your Speaker
Choosing the right speaker could make all the difference to the success of your event. Having a clear understanding of your speaker eliminates a lot of potential miscommunication. Before you officially select your event speaker, do your homework.
Understand their platform: Make sure your speaker's platform aligns with the goals and objectives of your event. This will lend your event a credible voice and will ensure your speaker's message resounds with your audience.
Sample previous work: Sample your speaker's previous work including their talks, books, or conferences to get the best feel for their message and abilities.
Ask for references: You should also ask your potential speaker for a list of professional references that you can contact. Ask these references what the speaker was like to work with professionally. For example, did they adhere to the schedule? Were they difficult to get in touch with? How did they treat the event staff?
Search their name online: Search for your speaker on social media and search engines. See what people are saying about them to get a better understanding of their reputation.
Communicate Clearly and Often
Maintaining an open line of communication through each step of the planning process is the most effective way to manage conference speakers. Communicating clearly and frequently keeps the event running smoothly and your event speakers happy. Be open and straightforward about your expectations, and ask that your speaker do the same. What do you need from them to ensure a successful event? What does the speaker need from you to deliver a high-quality performance?
Before the Event
Before the event, compile a handbook of important information to give to your speaker. The handbook or reference sheet should contain:
A summary of the conference: Summarize the goals and objectives of the conference and provide background information on the company or organization hosting it. Your summary should also include the date of the event, descriptions of other event activities and speakers, all relevant contact information and any additional information that can help your speaker prepare.
Venue information: This includes all information about the venue space, like the address, square footage, seating arrangement and technical capabilities.
A list of deadlines: Include a list of all deadlines for your speaker, including the deadline to receive their promotional material, the deadline for special requests and more. Having these dates in writing will give your speaker something to refer back to as they prepare for the event.
Information about the audience: Good speakers personalize their message to the audience. Let the speaker know what to expect, including the anticipated size of the event, audience demographics and what methods of technology you plan to use during their presentation to increase audience engagement.
You should also ask your speaker for a list of any special requests, including accommodation accessibility and dietary restrictions.
Be sure you request promotional material from your speaker including headshots, video clips, and a short biography as soon as possible so you can use the content in your advertising and event marketing campaigns.
During the Event
Make sure you have a plan for communicating with your speaker during the event. Let them know about schedule changes and give them gentle reminders before it is time to go on. Don't forget to make yourself available should they have any last-minute questions or concerns.
After the Event
Once the event has ended, thank your speaker for their presentation. You should also make an effort to maintain a professional relationship with your speaker. They are a great addition to your network, and you never know when you may want to contact them for another event.
Ask your speaker for feedback. What part of their experience was enjoyable or memorable? Is there something you, as an event planner, could improve on for the next event or speaker? Do not take their responses too personally. Instead, use this information to grow professionally and plan even better events in the future.
If your speaker asks for feedback, be honest and kind. Let them know what they did that stood out or impressed your audience. Tell them which parts of their talk you personally enjoyed. If there was anything that they could have improved upon, like better communication, for example, let them know. If they are asking for feedback, it is likely because they want to grow and develop as a professional, just like you.
Promote the Event
A critical factor in speaker management is successful advertising. Work with your speaker to develop a promotional plan. Find out how your individual goals can benefit one another. For example, if your speaker is trying to promote a new book, you could consider using quotes from that book to advertise your event and get the audience excited about your speaker. If you are both actively promoting the event on your own, separate channels, you double your event's exposure and reach audiences you wouldn't have otherwise had access to.
What channels can you both use to promote the event?
Websites: Promote the event on the organization or company website and the speaker's website. For the best results, do this through written content or eye-catching graphics.
Email campaigns: Most speakers will already have an email list connected to their brand. During the weeks leading up to the event, each of you should send email reminders containing all important information, including the date and address of the event. Be careful not to overdo it – 78% of consumers unsubscribe from a brand's email list

if they receive too many emails.

Social media: In 2018, 2.65 billion people were using social media,

and that number is projected to increase to nearly 3 billion by 2021. For this reason, social media is one of your most powerful marketing tools. Both the planning organization and the speaker should take advantage of their social channels to market your event.

Press release: Send press releases about your event to media outlets. These official statements let local reporters and journalists know the details of your event, should they decide to cover it.
Word of mouth: Word of mouth may be old-fashioned, but it works. According to one report, 92% of consumers say they trust earned media

and recommendations from friends or family above other forms of advertising.
Stay Organized With an Event Schedule
A well-organized conference is crucial, especially when managing event speakers. One way to do this is by creating a detailed event schedule and distributing copies to all speakers.
There are a few considerations to keep in mind while developing your event schedule:
Remember your event's objective. Every part of your event schedule should be supporting or promoting these goals.

Be flexible. Include enough padding to account for travel, transition time and minor emergencies, like technical difficulties.

Don't forget to let your speaker know what time to show up for a soundcheck and how long they should expect the Q&A panel to last, if applicable.
Using an organized schedule takes some of the pressure off your speaker to have to figure things out as they go. Plus, if your speaker has a smooth experience at your event, they will be more willing to work with you again.
Trust Your Speaker
It is your responsibility to make sure everything presented at your conference meets your organization's standards. However, this does not equate to micromanagement. You should choose a speaker you can trust to deliver a relevant, professional message, without the need to review their notes or slides ahead of time. Micromanaging your speakers adds a lot of unnecessary work to your already-full plate and demonstrates a lack of faith in your chosen speaker. Do not try to control their message; instead, make sure you have taken the time to select a trustworthy speaker who genuinely represents your event's values.
Choose Accommodations Close to the Event Space
When selecting hotel accommodations for your speakers, try to choose a place close to the event space. By doing this, you avoid the possibility of traffic or a wrong turn delaying your speaker's arrival on the day of their presentation. This means your event speaker does not have to worry about focusing on anything other than their presentation. If you are using a professional transportation or chauffeur service, nearby accommodations will also save you money.
Provide the Speaker With a Private Space
At the venue, set aside a private space and reserve it for your keynote speaker. They will appreciate having a space to prepare, rehearse and store their personal belongings before they take the stage. If you want to go the extra mile, stock the room with refreshments and other small comforts. After all, public speaking, even for professional speakers, can be a stressful experience.
Consider On-Site Tech Support
Technology is a valuable asset for public speakers that allows them to connect with the audience in a more personal, interactive way. However, with all the benefits that come with technology, there is a risk of malfunction. Distorted audio, problems with a projector or other technical difficulties can distract from your speaker's presentation and impact your event schedule.
There are a few things you can do to minimize the chance for technical issues the day of your event:
Test all AV equipment, including microphones, speakers, music, screen projections, and more, ahead of time.

Ask your speaker to send their slides or other visual aids ahead of time so you can test them on the projector. Make sure the slide ratio matches the screen size to avoid blurry or distorted images.

Have backup microphones, computers, speakers and other necessary equipment.
Consider securing on-site tech support for the duration of your event. On-site tech support means that if something goes wrong with your computer or AV equipment, someone will be there who knows how to fix the problem quickly and efficiently. This translates to less worry for you and your speaker.
Confirm All Details
Before the big day, confirm all the major details, so you have plenty of time to make adjustments if necessary.
Make sure your speaker knows about the room layout, including the tables, chairs and design of the space. Your speaker will want to know so they can prepare for the best possible presentation.

Confirm hotel accommodations with your guest speaker and with the hotel.

Make sure your speaker and driver, if applicable, have the correct address for both your speaker's accommodations and the event venue.

Give your speaker an alternative way to contact you in case your phone is inaccessible.

Go over the event schedule with your speaker one last time. Give them a chance to ask questions or suggest adjustments.
Use Event Applications for Better Keynote Speaker Management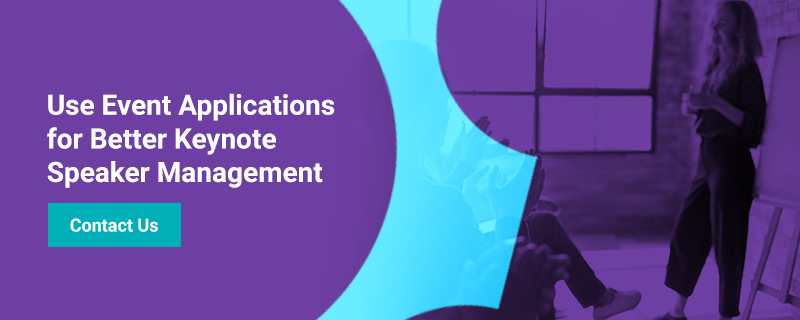 Use event applications to provide a better experience for your audience and efficient speaker management. Choose an event management software that offers a range of event management features in an integrated, configurable format.
Expo Logic has the most complete feature set of any event management software and includes:
Event planning tools

Session and abstract management

Speaker management

Online registration

Exhibition management

Lead tracking

On-site check-in

Event badge printing

Attendee tracking

Live stream and recording
Our award-winning event applications integrate with more than 40 Customer Relationship Management Systems and Association Management Systems. Our online event registration software is highly customizable, based upon your organization's unique needs. Additionally, our solution experts are happy to help recommend the best configuration for your event.
Contact us to request your demo today