One out of every two (52.6%) event managers agree — they're investing more into event management tools, software and digitally integrated systems than in previous years, turning to these systems to make their jobs easier and their events better.
So much attention on digital event management tools has catalyzed an explosive new software niche. Event MB also reports that, between 2018 and 2019 alone, all-in-one event management software adoption grew from 9% to 36% — tripling the number of users who are now harmonizing their business' software suites into a central platform. What's more, event-management software now touts an average 27% year-over-year growth, one of the most explosive in the broader software market.
How can event planners sort through the crowd to pick the best pieces of technology for their business? We're exploring the top-rated event management tools cited by industry experts so you can make a confident decision on your own online event management system.
Registration
Online event registration tools streamline much of the planning and promotional work that goes into pulling off a successful event. These tools synthesize certain aspects of event logistics, plus help manage vital attendee communications and touchpoints.
Some of today's top event registration software includes:
1. E-Ticketing
Thanks to smartphones, e-tickets have solidified their place as a convenient alternative to paper-based event passes. They're accepted everywhere from airports to concerts and are now growing ever-more prevalent in the professional events management industry due to e-ticket-generating software.
Next-gen e-ticketing can even include emerging strategies like ticket wearables, usually in the form of bracelets or bands attendees scan across an event for entry, payments, lead retrieval devices and more.
2. Pre-registration and early check-in
Online registration and early bird check-ins can dramatically reduce registration lines at the onset of conferences, expos, certification courses and similar events. Attendees will be impressed by the speed of those lines and appreciate having an option for how they'd like to check-in.
Most early check-in amenities come part of wider event-planning platforms that house registered guest data. The synced platform can then email early registration announcements, save participants' data and automatically send those early-bird guests their tickets, e-badges or check-in QR codes. When the event arrives, all they have to do is access those tickets via the event app or in their email.
3. On-demand badge printing
Wireless printing tools come as both individual pieces of software as well as tools included in larger event management suites. By printing badges in-the-moment and on-site, you de-clutter registration tables while ensuring guest's badge information is correct and up-to-date. You can even set up on-demand badge printing as part of self-service check-ins, further streamlining the formal registration process.
Event Logistics
Planning event logistics is one of the most detail-oriented yet ongoing aspects of a career in event management. These tools help simplify the end-to-end administration of major event components.
1. Event Apps
Event apps serve as a central resource for event attendees. The most dynamic ones provide a conference's schedule and can curate networking matches, send real-time speaker or session updates, trigger push notifications, maintain a feedback portal and even allow participants to tailor their own schedule of events.
By creating event apps, you and your staff digitally "outsource" much of the legwork associated with guest touchpoints. The app takes care of these communications for you, while also allowing customization and guest agency.
2. Speaker Management
Speaker management apps help you communicate, register and assist event speakers. Speakers are often one of the largest draws to a conference or industry event, so guest-speaker management must be a well-oiled operation ensuring the speaker's ease and comfort — and your peace of mind.
Speaker management software can send and receive documents such as a speaker's bio, trigger schedule alerts, communicate hotel or venue information and assist keynote guests in many other functions, all in one convenient system.
3. Session and Abstract Management
Planning a conference? One of the most significant logistical tasks is creating and implementing a successful session schedule. Those session agendas start with open calls for abstracts and a robust grading scheme, often between multiple peer reviewers or graders.
On the back end, session management then includes assigning time slots and rooms for accepted submissions, outfitting rooms with relevant technology and ordering seating layouts. A session and abstract management portal centralizes — and sometimes even automates — these tasks.
4. Floor Plan Management
Arranging every accepted abstract, confirmed panelist and booked speaker takes more than a few random room assignments. Mangers need comprehensive visual tools with a user-friendly interface letting them allot sessions in fittingly sized and configured rooms, then make easy changes as needed.
Floor plan management software can help visualize, set up and manage exposition centers with dozens, if not hundreds, of vendor booths. Arrange optimal booth layouts, manage space requests and confirm assignments all from one tool. Some floorplan management software can even help you manage housing or room-block reservations as well as multi-venue bookings.
5. Payment Processor
A secure payment portal ensures complete, safe and streamlined transactions for all event-related payments. From guests paying registration fees to event donations done in-real time, this kind of software handles one of the most essential aspects of event logistics.
Marketing and Promotion
Nearly all event coordinators recognize the importance of marketing their upcoming events. How they go about promoting those experiences differs — as do their marketing-management tools.
1. CRM Software
Customer relationship management (CRM) software helps event planners target and keep in touch with prospective attendees. It can also improve those touchpoints so ads and other promotional materials are more effective on their target audience, with the ultimate goal of increasing registration and ticket sales.
Comprehensive CRM software is seeing an inflection point in the event management industry. More coordinators are waking up to the uses and benefits of a single system that helps engage and convert guest attendance and event name recognition, including:
Lead and prospect tracking

Marketing campaign automation

Campaign account and finance management

Data aggregation and reviewable data dashboards

Guest transaction history

Automated reports

And more, all depending on the CRM platform
2. Analytics Tools
Marketing analytics programs track the performance of specific marketing campaigns. When you're drumming up attention and enthusiasm for a client's event, whether it's a branch opening or major industry conference, analytic tools are instrumental in showing you what advertisement strategies are working, where they're thriving and — most importantly — why.
Analytic tools can be holistic, tracking multiple marketing platforms simultaneously. Or they can be dedicated and designed for a specific medium, such as:
Social media: According to EventMB, over one-third (37%) of event planners say social media exposure is their largest indicator of event success. Coordinators know the objective traction of that exposure through social media analytics reviewing Facebook, LinkedIn, Twitter, Instagram and other platform views, click rates and interactions.
Email marketing: Email marketing tools can send specific campaigns to targeted lists, then track their click rates, perform A/B tests on subject lines or banner images and more.
Video and graphics: More than 60% of event coordinators use video marketing in their overall marketing strategy. Videos and custom graphics work particularly well in event managers' portfolio, showcasing real-life events as they unfold. Video analytics reveal which videos get the most impressions and which result in conversions, bookings and ticket sales.
Paid ads: Paid ads work on social media platforms, search engines and relevant third-party or industry websites. When users click on your paid ad, they're automatically redirected to a strategic landing page crafted to push event exposure or ticket sales. Paid ad analytics highlight which ads perform the best, ideally showing an increase in click-through rates that generated sales for your event.
Attendee Engagement and Communications
Attracting event attendees is only half the battle. Once registered, how do you continue communicating with those prospective guests until they turn into event evangelists, informed and excited about the upcoming day?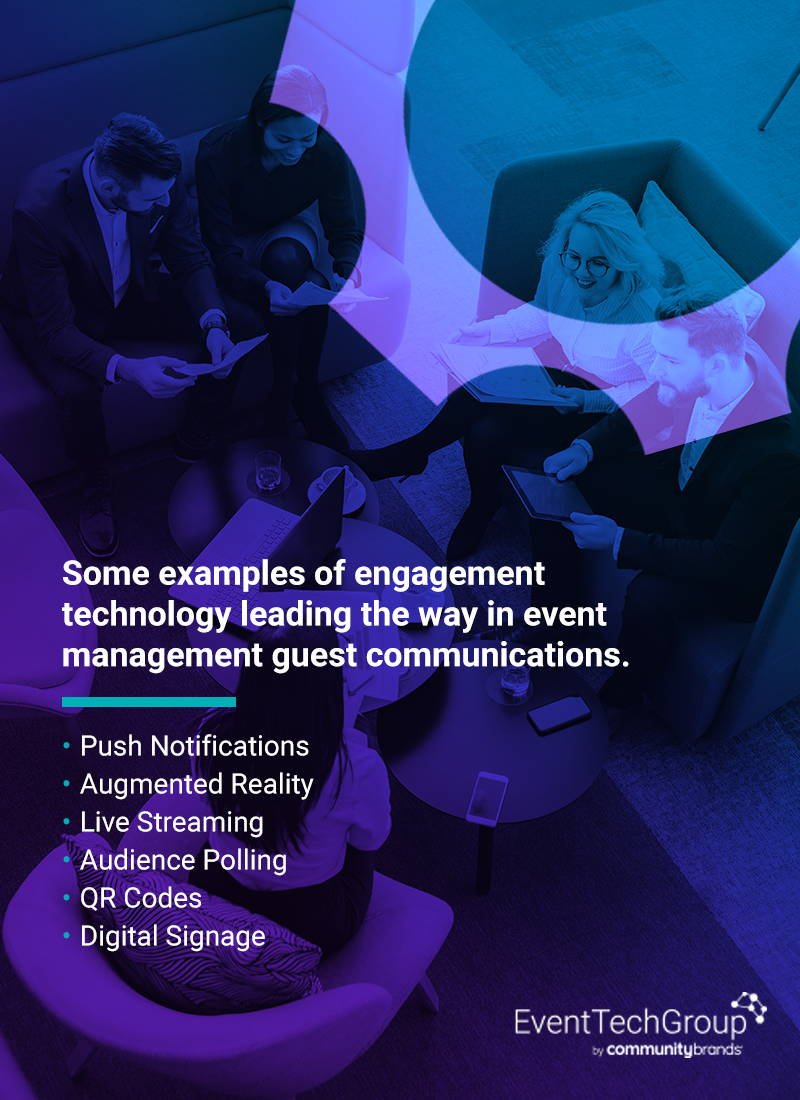 With software and applications designed for user engagement, you can. Here are some examples of engagement technology leading the way in event management guest communications.
1. Push Notifications
Sending registered guests periodic push notifications is a convenient and contemporary alternative to lengthy emails or other print mailers.
Use push notifications to send conference date reminders, schedule and speaker updates or relevant information about the venue, parking and transportation. Push notifications are often integrated with event apps, eliminating the need to migrate guest data over from one tool to the next.
2. Augmented Reality
Augmented reality is quickly becoming commercially mainstream. It's especially beneficial in the event management industry to build interactive venue maps, give conference or event space tours and even create gamified content for prospective attendees. Each of these possibilities creates a new and unique experience for the app's user — one they won't forget anytime soon.
3. Live Streaming
Live-streaming sessions give new life to the in-the-moment happenings of conference speeches, courses and panels. Today, people have come to expect such recordings and play-back potential, particularly for keynote addresses or high-profile guest speakers.
For event coordinators, offering a live streaming or recording service is a value-add on for booking your organization. You manage the technicalities of recording equipment and infrastructure, then send videos to your client or sponsor for their own syndication, letting them open their event to the world.
4. Audience Polling
Audience polling and other response technology helps attendees give real-time feedback via the event's app. This kind of integration offers several new forms of interactions during large-scale events. For example, panelists and session presenters can ask the audience questions and in a matter of seconds read answers from a connected screen.
The same feedback polls and portals can also be used to create guest surveys on the entire event experience — their likes, dislikes and suggestions for next year. Guests submit this in real time, no longer waiting around for a post-event survey that disappears somewhere in their inbox.
5. QR Codes
QR codes are unique to each registered guest. They can be displayed right there on an attendee's badge picked up at registration, or housed inside their personal profile on the event app.
However deployed, QR codes bring a modern touch to guest tracking, networking and pre- and post-event communications. Wherever they go, guests simply scan other attendees' codes to exchange contact information, connect on social media or to view specialty content created by vendors or presenters with their own displayed codes.
6. Digital Signage
Custom digital signs turn blank screens into a marketing canvas, one capturing more eyes and more engagement.
Highlight important conference updates, flash directional signage, designate queues and advertise major event sessions and speakers on these contemporary graphics. For a further professional touch, use colors, images and text fitting the wider event's themes but cohesive across all digital signs for a signature, on-brand aesthetic.
Event ROI Tools
Return-on-investment platforms provide valuable insights for you and your clients. These tools use objective data to illustrate event successes, and they can also help you discover fresh ideas or workarounds for even better results next time.
Inform your event management operations and prove your company's value with these event industry ROI strategies.
1. Attendee Tracking
Session and conference tracking technology ensures you're collecting valuable user data across an event's major and micro-moments.
Use these RFID, app-integrated or QR code-scanning technologies to see precisely where attendees are checking in. Tracking info reveals the hottest sessions and panelists at a conference, its popular networking events, its most engaging vendor exhibitions and more.
Knowing these hot spots informs layout and traffic flow best practices for your next organized event, as well as outside vendors or speakers to pursue matching attendee preferences revealed through data. You can even leverage these insights into an additional service offering at your event coordinating company, educating sponsors themselves on what to look for in successful events.
2. Attendee and Sponsor Surveys
Does your event-management service use feedback surveys to collect the real experiences and impressions from actual attendees? If not, you're missing out on an essential piece of strategic feedback in the events industry, one with more avenues to collect than ever.
The same goes for an event's host and sponsors, as well. What aspects of the event did they find most memorable, impressive, successful or open to improvements? Use feedback from sponsors and guests alike to transform any gaps in your deliverables, boost service offerings or as a repeatable template to "wow" those same clients next time.
3. Lead Retrieval
Lead-retrieval technology can be installed at vendors' booths or exhibitions, streamlining their lead follow-up strategies after the event.
Most lead retrieving technology comes in one of two forms — built into the event's app or available via a handheld device. In both these cases, vendors simply use their smartphone or the device to scan a guest's QR code or badge barcode. Once scanned, a lead's data — their contact information, company name, position and more — is automatically logged into their account inside an accessible lead-management portal.
After the conference or exposition wraps up, those vendors have a complete database of qualified leads to begin nurturing down their sales funnel. By offering lead-retrieval devices as part of your event management portfolio, you leverage one of the quickest and easiest ways for vendors to capture new clients — all while impressing potential B2B leads of your own.
Get the Technology You Need for Thriving Event Management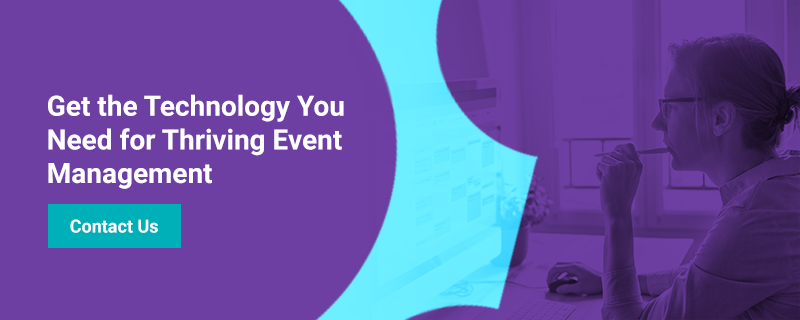 Event coordinators today have so many tools to pick from to help run their business and up their service offerings. Why manage each of those technologies and pieces of software on their own when they can be synchronized into one centralized system?
With Expo Logic, event coordinators unleash a completely integrated suite of event management tools. Expo Logic integrates with more than 40 CRMs and AMS platforms, simplifying the work you already do. Request a demo to see our synchronized event-management platform for yourself.
About the Author
Katie Cook
Senior Marketing Communications Specialist, Event Tech Group

Katie has a passion for marketing and writing. She enjoys learning about all aspects of events and sharing this knowledge through the Expo Logic Blog.